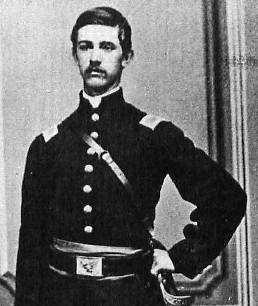 Luis F.
Emilio
joined Company E of the regiment today as a second lieutenant. He became Captain of Company E on May 23, 1863.
[Mercury, March 31, 1863]
Camp Meigs, Readville, March 30

Messrs. Editors:'

—As the week begins anew, I have condensed my notes of the past week to lay them before the readers of the Mercury. In my last I stated the number of men in camp to be 368; today the number is 439, an increase of 71 men in one week, one more company having been organized, making five companies. During the past week things have assumed a more military shape than ever before, owing to the fine state of the weather, permitting out-door drilling. Since the men have been in camp the drilling has been conducted in empty barracks, until the past week. It is quite enlivening to see squads of men in the open field, a little distance from the barracks, going through their evolutions; especially when they acquit themselves so creditably as the officers say they do.

And here I may remark that every officer in camp appears to take an interest in the speedy and correct discipline of the men; neither are they lacking in regard for the religious welfare of the men, receiving the proffers of religious men willingly, who desire to make any remarks beneficial to the men. Rev. Wm. Jackson is here, and is to act as chaplain pro tem. Mr. Rickers, City Missionary, from Boston, preached yesterday forenoon, and Rev. Mr. Jackson in the afternoon.

I see a rumor in the Boston Herald that the conscription act will be put in force by taking the Northern colored people first. If it be true, the young, able bodied colored men of New Bedford would do well to come up here to Readville, "out of the cold." The New York World thinks Gov. Andrew is exasperated because the colored people won't enlist. There may be more truth than sarcasm in the hint.

The Editors of the MERCURY will please accept the thanks of Company C, for a bundle of magazines, and serials. Also, some unknown friends, for towels, looking glasses, blacking and brushes, and three barrels of apples. These acts of kindness make us all feel that we are not forgotten by the good people of New Bedford. If those we left behind fare in proportion as well as we do, we are content.

J. H. G.
---
Readville [BCF]
March 30,1863

Dear Father,

Caraway should not have received a pass. He was away on leave, and should have paid his own expenses. We have had four companies mustered in to-day. There is another one half full, and sixty men on their way from Buffalo. In a month I think we shall be full.

Thank you for your answer to my question about our being married. There is no reason why it should interfere with my duties as an officer.

I hope all the coloured people will be as sensible as Downing; I didn't know he had been here. The mustering-officer, who was here to-day, is a Virginian, and has always thought it was a great joke to try to make soldiers of "niggers"; but he told me to-day, that he had never mustered in so fine a set of men, though about twenty thousand had passed through his hands since September last. The sceptics need only come out here now, to be converted.

I hope to find a letter from Mother when I go in town to-morrow afternoon. Give my love to her. Annie has not been well since she came here. In one way it has been very fortunate, for we have had several quiet evenings together. I don't know what her Mother will say to our plan of being married before I go, but I hope she will come into it.

Your loving son,

Robert G. Shaw